Support of SAP Business One 10.0

In addition to previously announced SAP Business One, Version 10.0 - Early Adopter Care, we would like to inform, that we officially support SAP Business One 10.0 from version 10.0 PL02 with Coresuite 7.17 onwards.


01.10.2020 - Due to critical issues which we faced during testing of Coresuite on SAP Business One 10.0 FP2008 (PL03), we decided not to support this patch level for Coresuite. For more details, please see: SAP Business One 10.0 FP2008 (PL03) Is Not Supported .
Multi-tenancy Design
Please note that SAP officially offers multi-tenancy architecture as of SAP Business One 10.0, HANA 2.0.
With SAP Business One 10.0 PL02, whereas SAP is available with a multi-tenancy design for OnDemand installation, the same does not fully apply to onPremise installation.
For onPremise scenarios, SAP currently offers with SAP Business One 10.0 PL02 partially working "multi-tenant" installation, where it is essential to have each tenant database installed on a separate HANA server. As there is nothing in a written form provided by SAP in regards of this, please contact SAP for more details.
To facilitate Coresuite to run OnDemand/onPremise multi-tenancy, we have enhanced our installer (Coresuite 7.17), which is able to connect to multi-tenant databases.
The new installer takes following parameters into account: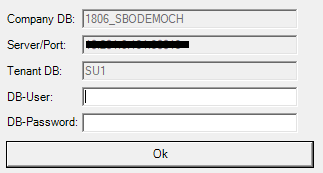 Company DB, Server/Port and Tenant DB are automatically gathered based on the database, to which you are currently connected to. DB credentials must be entered in order to create a DB connection - please see the section below.
Security Recommendations
Due to security reasons, SAP does not recommend using database administrator's accounts "sa" (on MSSQL) or "SYSTEM" (on HANA). Suggestion is to create an alternative user, to have accesses under control.
In SAP Business One version 10.0, the security was improved by SAP even more and during installation or upgrade to SAP Business One 10.0, new restricted users for database connection are being created. Advantages of restricted users are, that credentials are not exposed to end users, so they can't change data in a database directly, which protects the databases from being changed or attacked.
In addition to sections related to security and users in SAP Business One Administrator's guide, please check also the recommendation in SAP note: 2865496 - "Remove SBO-COMMON Permission From Company Level DB User Manually".
As we want to follow SAP security standards, however, restricted users of SAP Business One can'be used due to unknown credentials, for installation of Coresuite and its connection to the database, we recommend creation of limited restricted users in the same way as SAP does it. You can find the script to create such user on the following FAQ: Scripts to Create restricted Database Users.